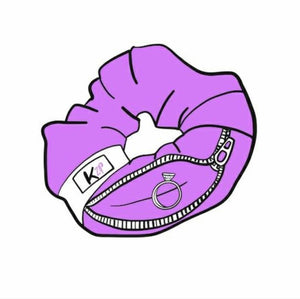 The KZIP Story
Kayla Davis, founder of KZIP and owner of KDAVIS Fitness has quite the story behind the KZIP Scrunchie.  In 2016, she was at a huge gym complex in Edmonton, Canada and took off her engagement ring to do an exercise (to avoid scratching it). Three hours later, she was back at home and realized her ring was not on her finger. Frantically trying to remember where she could have left it, she remembered taking it off at the gym.
She raced back to the gym in tears with a pit in her stomach, and went back to where she remembered taking it off... it wasn't there. She asked a few staff members to help her search and after 15 long minutes, they found out that someone had turned it into the front desk! 
Kayla hopes that the KZIP scrunchies will help prevent this from happening to other women around the world by keeping their valuables safe while they workout.